December 6, 2019
"It's Our Future": Meet the Youth Activists Behind Fridays for Future Movements in Uganda and Chile
In Spain, the 16-year-old Swedish climate activist Greta Thunberg has arrived in Madrid to take part in today's strike as well as a major march set for 6 p.m. local time. Greta began the climate strike movement last year when she started skipping school every Friday to stand in front of the Swedish parliament, demanding action to prevent catastrophic climate change. Her protest spread, quickly going global. We speak with two youth climate strikers: Hilda Flavia Nakabuye is the founder of Fridays for Future Uganda and Angela Valenzuela is a coordinator with Fridays for Future in Chile, where this year's U.N. climate summit had been scheduled but massive protests against neoliberalism forced the Chilean government to cancel the talks.
Youth-Led Protests Topple Iraqi PM as Demonstrations Calling for Overhaul of Government Continue
DECEMBER 02, 2019
Anti-government protests are continuing in Iraq one day after the Iraqi parliament voted to accept the resignation of Prime Minister Adel Abdul Mahdi. On Saturday, protesters set off fireworks in Baghdad's Tahrir Square when Abdul Mahdi announced he would submit his resignation, though he will remain in a caretaker capacity until a new government is formed. The resignation came two days after Iraqi security forces killed at least 44 people in the southern cities of Nasiriya and Najaf after the Iranian consulate was burned down on Wednesday night. Following the bloody crackdown, Iraq's Shi'ite spiritual leader Grand Ayatollah Ali al-Sistani urged the Iraqi Parliament to withdraw its support of the prime minister and warned that the escalating violence could lead to a civil war in Iraq. More than 400 Iraqi protesters have been killed and 15,000 injured since the widespread anti-government demonstrations began in October. We speak with Iraqi journalist Ghaith Abdul-Ahad, correspondent for the Guardian newspaper, and Sinan Antoon, poet, novelist, translator and scholar born and raised in Baghdad.
MAY 24, 2019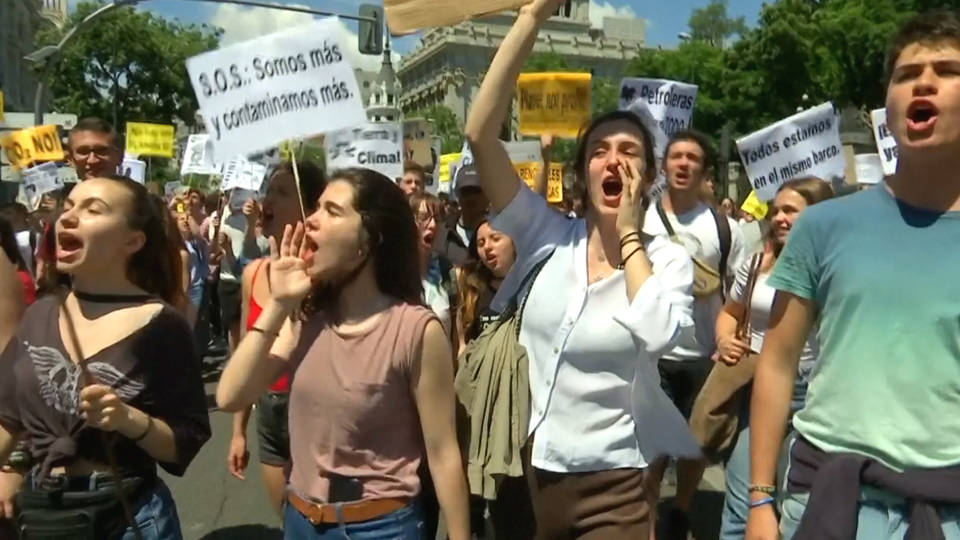 And youth activists in cities around the world have launched another one-day global climate strike that could rival a March 15 action that saw an estimated 1.6 million participants. Organizers, inspired by 16-year-old Swedish high school student Greta Thunberg, say they're planning more than 1,350 separate strikes in every continent on Earth today—including two strikes in Antarctica. This is 19-year-old activist Marta Macías from Madrid, Spain.
Marta Macías: "It's estimated we have 11 years before climate change is irreversible. And if we don't take the necessary measures over these 11 years, we will end up without a planet. I want to defend my life on this planet, as well as the survival of my species and all of the other species that live on it."

https://www.democracynow.org/2019/5/24/headlines/record_number_of_students_walk_out_of_classes_in_global_strike_for_the_climate
MAR 01, 2019 –Teen Climate Activist to Sen. Dianne Feinstein: We Need the Green New Deal to Prevent the Apocalypse
"We're the ones affected." Those are the words of youth climate activists who confronted California Senator Dianne Feinstein last week in San Francisco, demanding she sign on to the Green New Deal. In a video of the interaction that has since been seen across the country, Feinstein dismissed the children—some as young as 7 years old—asking her to take bold action on climate change. We speak with the youth climate activists who confronted the senator: 16-year-old Isha Clarke, 12-year-old Rio and his 10-year-old sister Magdalena.
January 3, 2019 – On Her Shoulders: Stunning Film Follows Nobel Peace Winner Nadia Murad's Fight to End Sexual Violence.
democracynow.org/2019/3/1/teen_climate_activist_to_sen_dianne(opens in a new tab)
Democracy Now presents the remarkable story of Nadia Murad, the Yazidi human rights activist from Iraq who was recently awarded the 2018 Nobel Peace Prize. Murad was kidnapped by the Islamic State in 2014 and repeatedly raped as she was held in captivity. After managing to escape, Murad fled Iraq and has dedicated her life to drawing international attention to the plight of the Yazidi people. The documentary "On Her Shoulders" follows Murad as she shares her story with the world. It has been shortlisted for an Academy Award for Best Documentary and recently received the Columbia Journalism duPont Award. Democracy now speaks with the film's award-winning director Alexandria Bombach.
https://www.democracynow.org/2019/1/3/on_her_shoulders_stunning_film_follows
December 14, 2018 – 15 y.o. Greta Thunberg's presents at the U.N. climate summit.
Heeding Call of Greta Thunberg, Polish Students Walk Out of Class upon hearing the words of 15-year-old Swedish climate activist Greta Thunberg upon her presentation at the U.N. climate summit the previous night (note link below) – her dad driving their electric car through the night so she could sit in front of the Swedish parliament once again, where she goes every Friday in a school strike against climate change. Here in Katowice, Poland, at least 30 local high school students answered Greta's call, walking out of classes today and carrying their message here to the COP. The group sang and chanted while sitting on the steps of the main conference hall, holding signs that said "12 years left" and "#ClimateStrike." This is student Gosia Chehowska speaking with Democracy Now!'s Carla Wills. https://www.democracynow.org/2018/12/14/climate_strike_heeding_call_of_greta?autostart=true
December 13, 2018 – Democracy Now presents fifteen-year-old Swedish climate activist Greta Thunberg addressing the U.N. plenary on December 12, 2018 in Katowice, Poland, as she condemns global inaction in the face of catastrophic climate change. Her couageous challenge … "You are stealing our Future!" https://www.democracynow.org/2018/12/13/you_are_stealing_our_future_gret
November 3, 2018 – Supreme Court Rejects White House Move To Block Teens' Climate Change Lawsuit. The Supreme Court refused a Trump administation application to halt an intriguing climate change lawsuit filed by a group of young people against the U.S. government. https://www.huffingtonpost.com/entry/supreme-court-refuses-white-house-move-to-block-youth-climate-change-lawsuit_us_5bdcf6c7e4b01ffb1d025519
September 26, 2014 – Joshua Wong, a fourteen-year-old harmless-looking youngster served as one of the leaders of the Umbrella Revolution, a pro-democracy movement that barricaded itself in downtown Hong Kong. As a series of sit-in street protests called the Umbrella Revolution and at times used interchangeably with Umbrella Movement, its initial protests occurred in Hong Kong from 26 September to 15 December 2014. While Wong's activism began when he was just fourteen founding the student organisation, Scholarism, which reached its peak when in over two months in 2016, it birthed the largest political demonstration in China since the Tiananmen massacre, more than 1.5 million people protested against the Beijing government.
https://www.aljazeera.com/news/2015/09/teenager-defied-china-150925085531871.html